Day 1: Check-in and sail to Stavoren
We greet you onboard at 1 p.m. in the historic harbor of Enkhuizen- a short train ride from Amsterdam Central Station. Our crew will settle you in while you enjoy our Dutch hospitality-lunch in the salon. Flora sets sail right away to the city of Stavoren- oldest city in beautiful Friesland. Here we fit bikes and guide, Sietse, will lead a lovely countryside tour.
Tonight at a delicious Welcome Dinner we meet our travel friends and learn about this exciting tour.
Day 2: Harlingen Harbor (25 miles)
During breakfast, a beautiful sail along the Friesian coastline to the old fishing village of Makkum where we start our cycling. We learn about the ancient hamlet whose lime kiln and brick works industries brough Makkum prosperity in the 17th century.
Cycling inland we visit Bolsward- an ancient Frisian settlement built on 'terpen' - original dwelling mounds used to protect houses from flooding.
Important stop will be the historic town of Franeker, one of the 11 historical Frisian cities from 800. We make a special visit to the oldest working Eise Eisinga Planetarium where one of the first models of the Solar System can be witnessed.
Our destination for the night is Harlingen- Friesland's only seaport. Always bustling with activity, Harlingen has a beautiful center full of canals and historic warehouses. We will stop to visit a replica of the ship used by famous Dutch explorer Willem Barentz in his exploration of the North Pole.
Day 3: Terschelling Island (28 miles)
A short breakfast sail leads to Terschelling - largest of the islands adorning the Wadden Sea - a UNESCO World Heritage Site.
Terschelling is a stunning natural experience- vast sandy beaches, flowing dunes, beautiful farm- horse countryside and lovely villages- connected by 100 miles of cycling and walking trails.
You may explore today on your own in glorious July weather, or join our guide, Sietse, on a tour of his favorite areas.
Day 4: Texel Island (25 miles)
Today we head for North Holland and amazing island, Texel. From the seapark of Ecomare, seven lovely villages, remote beaches, to nature preserves full of wild orchids, we enjoy Texel uniqueness.
Perhaps you would like to visit one of the cheese farms to see how they make their artisan products. Or, stop by the popular Texel Brewery for a tour and glass of their refreshing beer.
Day 5: Den Oever- North Holland (25 miles)
This morning we reach the tip of North Holland and city of Den Oever on the former island of Wieringen. Written history here goes back to a monastery from the 8th century but excavations show settlements from the Viking explorations.
After cycling the beautiful countryside we hope to have time for a visit to the local museum for an interesting talk followed by typical Dutch cake and coffee.
Day 6: Enkhuizen (28 miles)
We follow the beautiful dikes of the Ijssel River today first to the town of Medemblik. At a stop for picnic lunch we can see the imposing Castle Radboud- former home of Count Floris V from 1287.
We head for Enkhuizen-a harbor town with a rich past, Enkhuizen was one of the most prosperous cities during the Golden Age of Holland. We will tour the idyllic old city then head for the Zuiderzeemuseum. We explore several hours in the open-air to witness life as it was over a hundred years ago, strolling with our guide through an authentic fishing village.
Day 7: To Amsterdam (30 miles)
An early sail brings us to lovely Hoorn. A vibrant historic city, Hoorn became prosperous as a main office of the Dutch East India Company. Large fleets sailed to exotic ports bringing back spices to be sold at huge profits.
Cycling today meanders the beautiful Waterland region of quiet bike paths and tiny villages. Soon we meet the great North Holland Canal to follow the bike path into Amsterdam.
Let's celebrate a gorgeous adventure with a Captain's dinner and thank you from the crew.
Day 8: Goodbye to a beautiful trip!
Saturday morning we breakfast, say our goodbyes and disembark at 9 a.m.
In 2022 our good friend and historian, Sietse Huizingh, will be carrying on our philosophy of personal hosting and guiding with our new summer Bike and Boat tour.
Sietse is a charasmatic guide, engaging our guests with history and storytelling. Always smiling and personable, we are delighted to have him on-tour!
Trip Difficulty
The Netherlands terrain is mostly flat and we can experience some wind and rain which are factors that impact cycling. We recommend this trip for an active person and recreational cyclist who can enjoy a leisurely 25mile/day tour averaging 8-10-m.p.h. on easy/flat terrain.
Leisurely for us means we are never rushing and like to "smell the roses" enjoying the sites along the way. We take advantage of the Netherlands excellent bicycle infrastructure and enjoy cycling, whenever possible, on dedicated cycle paths and separate on-road bike lanes.
We do not use the assistance of a support vehicle on our tours. You are always welcome to take a break from cycling and enjoy time onboard sailing to the next destination? quite a delightful experience!
Please note that daily mileages indicated on the Itinerary page are averaged as closely as possible. Due to unforeseen circumstances such as docking changes, weather, road and nautical factors, we reserve the right to change routes in view of your safety.
Transportation
Your trip starts in Enkhuizen, a beautiful town just north of Amsterdam. It is accessed by a short train ride from Amsterdam Central Station. Our boat, Flora, is docked in the Enkhuizen harbor very close to the city?s train station. A walking map of the town is included in your trip Welcome Letter.
As with all European trips, we advise our cyclists to arrive a few days early to acclimate to the time change, get acquainted with the new culture and take time to sightsee beautiful Amsterdam.
Additional Information
We confirm your booking via email with a detailed Welcome Letter for your tour. In this letter you will find lots of pre-trip planning information like how to get to the trip start, pre-trip lodging in Amsterdam, weather, cycling in Holland, how and what to pack, international travel information and hints, tips on booking airfare, etc.
Suzie always asks that you contact her with questions or for help she can give you with your travel plans. Please visit our Trip Info page for more information!
We are delighted to host our tour on the Hotel Boat Flora. The ship features comfy cabins with private bath, a lovely eating salon and lounging area, and outside deck to enjoy a drink and views of the water.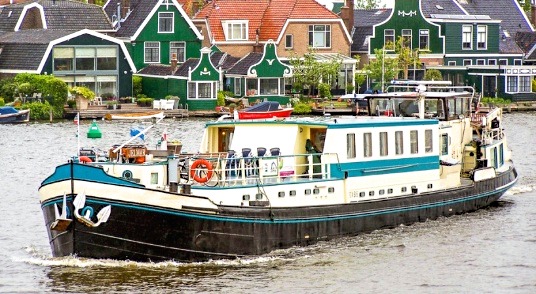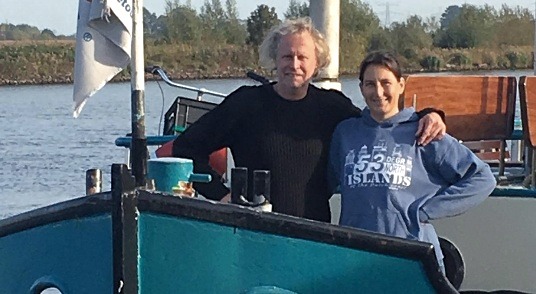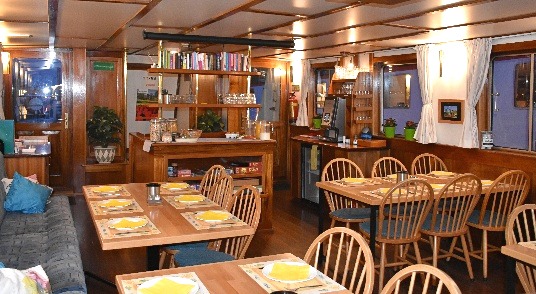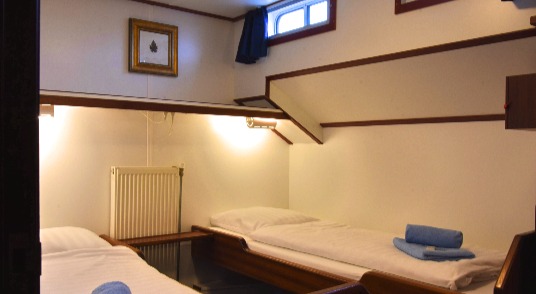 Information about your trip, what to pack, pre-trip transportation and lodging in Amsterdam, traveling abroad, tips on airfare, and other important pre-trip details will be provided in a WELCOME LETTER sent to you when we receive your registration for the trip.