Day 1: Welcome & cycle/sail to Haarlem (20 miles)
We welcome you onboard Flora at noon. You will settle in your cabin and for those ready to cycle, be fitted on your bike. At 12:30, both cyclists and those sailing depart for a beautiful journey to Haarlem.
Our cycling adventure includes a stop at a Working mill to see them grind flour for Saturday patrons, and time permitting, a tour of the unique Brederode Castle ruins from 1300.
We celebrate the evening with a Welcome Dinner, talk of the tour and introduction of guests and crew.
Day 2: Leiden (25 miles)
Today we head for the beautiful dunes of Kennemerland National Park where we enjoy easy rolling paved paths and stop to peak at beaches dotting the North Sea Coast.
After a nice coffee stop at the water, we head for Leiden. Leiden is an unusually beautiful city, famous for being the birthplace of Rembrandt and where Clusius brought the first Dutch tulips into bloom. Leiden is also home to the first university in Holland (1575), which has developed into a world-famous centre of science.
We will stop for a visit in the beautiful town center and visit the historic St. Pieters church and living area of the Pilgrims before coming to the New World.
Day 3: Delft-Rotterdam (25 miles)
We cycle to the Hague-the administrative and royal capital of the Netherlands and the seat of government of the Netherlands which hosts the International Court of Justice, one of the most important courts in the world. There we visit Panorama Mesdag- largest circular canvas in Europe- creating a 360 degree magical optical vista of the sea, dunes and nearby village of Scheveningen as it was 200 years ago.
Then we tour the iconic Peace Palace- housing the Permanent Court of Arbitration, the United Nations International Court of Justice and The Hague Academy of International Law.
After lunch we continue to charming Delft- Vermeer's birthplace known for its fairytale streets lined with canals, and also birthplace of William of Orange- first leader of the Netherlands. A stop to the famous pottery factory- Royal Delft- completes our day before boarding Flora for a sail into Rotterdam.
Day 4: Willemstad (22 miles)
As Rotterdam is a large, vibrant and populated city, we carefully chose the greenest route via dedicated bike paths. We reach beautiful and quiet countryside dotted with old villages and cross the vast Hollands Diep - a wide river in the Netherlands also an estuary of the Rhine and Mosel river.
We are now in the province of North Brabant and arrive at our destination, Willemstad. Willemstad is a lovely small historic town from 1585 with beautifully preserved walls and fortifications. We take time to explore the town before dinner.
Day 5: Zierikzee- Zeeland (25 miles)
Our cycling explores the breathtaking polders of the delta island, Goeree Overflakkee. We experience an impressive dijk- Grevelingendam, part of the Delta protection project and affords spectacular views of the great waters in the area.
On the Island of Duiveland we stop to visit the Disaster Museum which tells the story of the great North Sea flood of 1953 that sparked creation of the Delta Works. Our stop for the night is amazing Zierikzee- a rich trading city from the middle-ages whose wealth led to the construction of a beautiful port, city hall, mills, church and city walls and gates. We will enjoy all of these treasures on our city walk.
Day 6: Middelburg (25 miles)
Skirting the lovely Duiveland coastline, we twist in and out of inlets surrounded by grasslands and views of blue waters. Then an impressive crossing over the world-famous Storm Flood Sea Dike in the eastern Scheldt River, one of the main Dutch waterways.
Turning east we stop in Veere- a specially protected town and hub for tourists to sail their pleasure boats. Founded as a fishing port in 1296, Veere flourished in the 1500s when it became the primary port for Scottish wool and other Scottish goods.
A quick ferry takes us over to the island of Walcheren and our destination, Middelburg. Capital of the Zeeland Province, Middelburg boasts charms of a rich historic heritage. Once the 2nd most prominent trading city of the VOC (Dutch East India Company), you'll feel like you're travelling back in time as you wander through the old town centre-elegant canalside houses, meandering alleyways, imposing Gothic town hall and tower called Lange Jan- to mention a few of Middelburg's exciting things we see.
Day 7: Day Free
Today is your day free to enjoy on your own. Our hostess, Jonne, invites you on a morning town walk in this town of her birth. Then why not try a Middelburg cafe for lunch specializing in the famous Zeeland mussels and clams.
There are so many exciting things to enjoy in Middelburg- including historic canal boat rides or walk to the top of the Abbey tower for a breathtaking panoramic view of the area. Some of you would like to visit our neighbor, Belgium with a train ride to one of the nearby historic cities like Brugge or Gent.
So you can make the most of your free day, dinner will be enjoyed on your own.
Day 8: Bruinesse (25 miles)
We leave Middelburg towards lovely Kortgene- lost in 1500s during a flood and rebuilt 100 years later, it retains its historic charm and is a mecca for water enthusiasts.
A crossing over famous Zeeland bridge affords fantastic water views after which we follow a beautiful dike with pastoral views of typical Zeeland farm and horse country.
Today we make a few exciting stops- one to visit a fruit farm and taste the seasonal crops, and another to have a coffee break at a Beleefboerderij- a unique situation of hand-on learning for Dutch folks with disabilities. Here we visit with the farmer and take a tour, topped off with a visit to the restaurant and Dutch pancakes lovingly made by farm residents.
We end our day in Bruinesse- resting on a corner meeting the Grevelingenmeer Lake- Europe's largest freshwater lake with its own unique fauna and flora. In summer, Bruinesse is a popular vacation destination and attracts lots of water sports enthusiasts.
Day 9: Dordrecht (25 miles)
A lovely breakfast sail brings us to the tiny town of Moerdijk where we start cycling.
Our route explores Biesbosch National Park - a green maze of rivers, islands and wide creeks. Known as one of the largest, valuable natural areas in the Netherlands, it's also one of the few remaining fresh-water tidal areas in Europe. We will visit the informative Biesbosch Museum before reaching historic Dordrecht.
Over a thousand years old, Dordrecht lies on the confluence of three mighty rivers. We'll explore the city's beauty and treasured history as we walk after dinner along its cozy harbor, past old merchant houses and many well preserved centuries old buildings.
Day 10: Gouda (25 miles)
An exciting day awaits us! We start our adventure with a waterbus ride to Kinderdijk-honored as a World Heritage Treasure by UNESCO in 1997. Built in 1740 and preserved to this day, 19 sturdy mills were built in Kinderdijk; a concentration of this number found nowhere else in the world.
We cross River Lek by bicycle ferry to visit farm De Jonge where the owners will show us how they make delicious cheese. You may buy some in their family shop to take home!
Soon we arrive in Gouda. Gouda boasts a vibrant historic center including St. Johns Church with its world-famous stained-glass windows, Gothic Town Hall, Weigh House and Harbor Museum. We'll make a special visit to see, and of course taste, traditional Stroop Waffles made in Gouda for over 100 years.
Day 11: Amsterdam (25 miles)
We leave through a recreational area surrounded by a huge lake that we cycle across like we're floating on the water while gazing upon a preserved grassland landscape.
Hopping from one beautiful bikepath to another, we're pedaling off the beaten path stopping for lunch in the small village of Hazerswoude- where we can enjoy coffee in a favorite family cafe.
Just a few more miles we arrive in Kudelstaart resting on the banks of a gorgeous lake- the Westeinder Plassen. Here Flora will be waiting for a dinner sailing into Amsterdam.
Day 12: Goodbye to a wonderful tour!
Wednesday morning we enjoy breakfast with our friends. At 9 a.m. we say goodbye to Captain Berthus, hostess, Jonne and all the friends sharing time on a fun tour!
Suzie and Roger Knable pride themselves in offering personally hosted, service-oriented tours. We are hands-on in all phases of our tours and are your hosts and ride leaders on most trips.
Trip Difficulty
This trip is advised for someone of good fitness and recreational cycling ability who can enjoy 25-30 plus miles a day on flat to some varied terrain. The ride leader will be averaging a leisurely touring pace and we will have a ride sweep.
As with all Bike and Barge trips-there is no support vehicle on our routes.
Transportation
Your trip starts in Amsterdam which is serviced by Schiphol Airport, located just a few miles from the city center where our boat is docked. There is both excellent public transportation and reasonably priced shuttle service available from the airport to the city.
As with all European trips, we advise our cyclists to arrive a few days early to acclimate to the time change, get acquainted with the new culture and sightsee beautiful Amsterdam.
Additional Information
We are delighted to host our tour on the passenger ship Flora. The ship features comfy cabins with private bath, a lovely eating salon and lounging area, and outside deck to enjoy a drink and views of the water.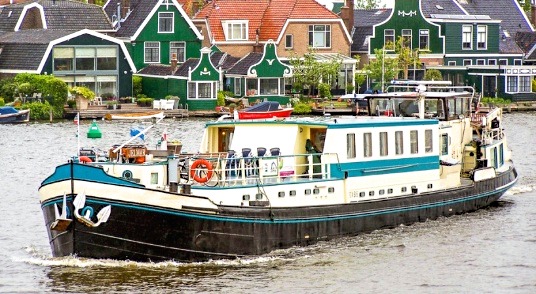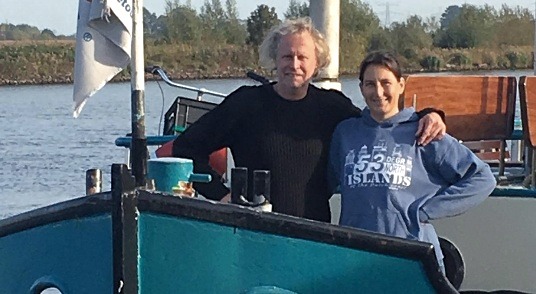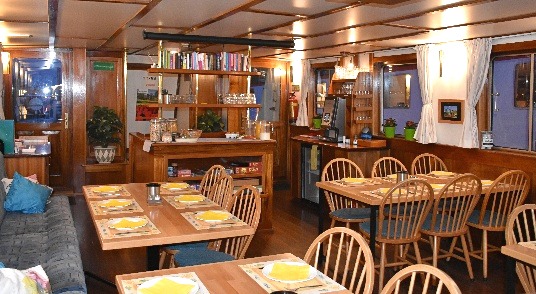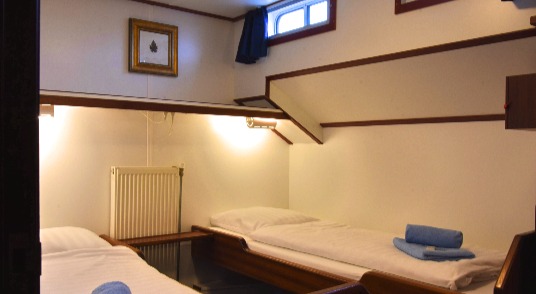 Information about your trip, what to pack, pre-trip transportation and lodging in Amsterdam, traveling abroad, tips on airfare, and other important pre-trip details will be provided in a WELCOME LETTER sent to you when we receive your registration for the trip.