Day 1: Check in and cycle/sail to Alkmaar
Our trip starts Saturday afternoon when Flora sets off sailing out of Amsterdam to the city of Alkmaar at the top of North Holland. Cyclists will leave from Amsterdam and cycle through the beautiful nature area of Het Twiske to the 17th century village of Zaanse Schans.
We will stroll down streets lined with green wooden houses and graceful bridges, and poke into tradesman workshops, tiny stores and working windmills. Flora will meet us here and you can choose to sail or continue with a guide cycling us to beautiful Alkmaar.
While sailing we will enjoy snacks and a talk about our tour. We celebrate the evening with a Welcome Dinner and introduction of guests and crew.
Day 2: Alkmaar - cycle the flower fields
A fishing village from the 10th century, Alkmaar gained prosperity and cultural richness as one of the main headquarters of the East Indies Trade Company. We will explore this beautiful city on a quiet early morning tour.
Then, we are off on bikes towards the North Sea coast and a visit to the village of Bergen from the 1500s. From here we follow snaking trails through miles of forest and most beautiful dunes. Turning inland we cycle through landscapes of colorful flower fields as far as the eye can see. We return to Alkmaar via small hamlets dotted by old windmills and tiny houses with beautiful gardens.
Day 3: Haarlem (25 miles)
Flora sails us during breakfast to a beautiful lake where we start our cycling towards the ancient town of Haarlem. The capital of North Holland, Haarlem boasts a town center full of old Dutch architecture, a beautiful market place, quaint courtyards called hofjes dating back to 1300 and other Dutch sites to charm the visitor.
On our way to Haarlem we stop at Spaarndam, an adorable village paying homage to Hans Brinker at the site of the oldest lock of the Netherlands from 1285. We will visit the ruins of Brederode Castle, once a stronghold of a ruling Dutch family from 13th century.
Arriving in Haarlem we hope to visit the Haarlem Museum with interactive film of the town's history.
Day 4: Leiden (22 miles)
We depart Haarlem into the flower fields for exciting cycling and photo taking. Mid-way in our route we stop at Keukenhof Gardens to browse the blooming acreage for 2.5 hours.
We head for Leiden Center to enjoy this unusually preserved Golden Age city. An early Roman city founded on the Rhine, Leiden is the birthplace of painter, Rembrandt, and home to the first University in Holland (1575) which has developed into a world-famous center of science.
Of special interest is that in the 16th century, botanist Clusius brought the first Dutch Tulips into flower here. Also, Leiden was home to the famous English separatists, and highlights of their life here is featured in an interesting Pilgrims Museum.
Day 5: Gouda (25 miles)
We leave Leiden heading south to Lidia and Teo's Farm- The Vierhuizen. The Van Leuwens run a nine generation milk farm- now prized for their organic Gouda cheese. We'll take a tour, learn how cheese is made and buy things to take home from their lovely shop.
With over 300 preserved buildings, Gouda boasts a vibrant historic center including the 123-metre long St. Janskerk (St. Johns Church) with its world-famous stained-glass windows, the fabulous Gothic Town Hall, the Waag (Weigh House), and many wonderful museums such as the pipe and earthenware museum.
We'll make a special visit to see, and of course enjoy, traditional Stroop Waffles made and sample chocolates from an original Gouda candy store.
Day 6: Gouda Cheese Market-Kudelstaart (23 miles)
We will linger a bit this morning for the Thursday morning GOUDA CHEESE MARKET - a spectacular and historic scene with lively cheese trading and a market square full of assorted vendors showing their foods and trades.
We take leave of Gouda into the Goudse Hout (woods)- a recreational area surrounded by a huge lake that we cycle across like we're floating on the water while gazing upon a beautifully preserved grassland landscape.
Day 7: Flower Auction-Amsterdam (25 miles)
We leave our boat early and cycle a few miles to get first peak at the workings of the famous Flower Auction of Aalsmeer - largest in the world. We will witness the exciting process in which millions of flowers and plants are bought and sold to be shipped to countries all over the world.
Heading to Amsterdam, we enjoy its Amsterdamse Bos (forest) at the southern edge of the city. Created in 1937 from unused wetlands, the Bos is now a favorite place for cycling and watersports. We'll stop at Meer Zicht where Suzie and Roger love to treat the group to popular Dutch pancakes - Pannekoeken.
Tonight we celebrate our final evening together with a special Farewell Dinner!
Day 8: Goodbye to the Netherlands
Saturday morning we will have breakfast, say our goodbyes to cycling friends and the wonderful hospitality of our captain and crew. We disembark at 9 a.m. for home.
Suzie and Roger Knable pride themselves in offering personally hosted, service-oriented tours. We are hands-on in all phases of our tours.
In 2022 our good friend and historian, Seitse Huizingh, hosted this tour.
Seitse is a charasmatic guide, engaging our guests with history and storytelling. Always smiling and personable, we are delighted to have him guide again in 2023!
Trip Difficulty
This trip is advised for someone of good fitness and recreational cycling ability who can enjoy 25 miles a day on flat to some varied terrain. Guide, Sietse, will be averaging a leisurely touring pace with stops for photos and snacks.
As with all Bike and Barge trips-there is no support vehicle on our routes.
Transportation
Your trip starts in Amsterdam which is serviced by Schiphol Airport, located just a few miles from the city center where our boat is docked. There is both excellent public transportation and reasonably priced shuttle service available from the airport to the city.
As with all European trips, we advise our cyclists to arrive a few days early to acclimate to the time change, get acquainted with the new culture and sightsee beautiful Amsterdam.
Additional Information
We are delighted to host our tour on the Passengership Flora. The ship features comfy cabins with private bath, a lovely eating salon and lounging area, and outside deck to enjoy a drink and views of the water.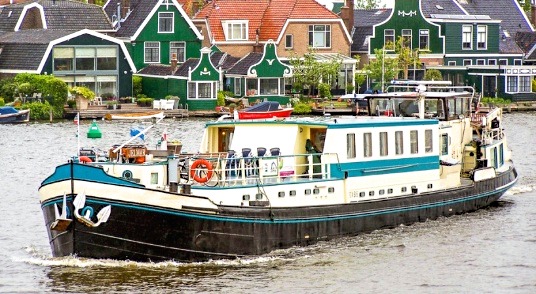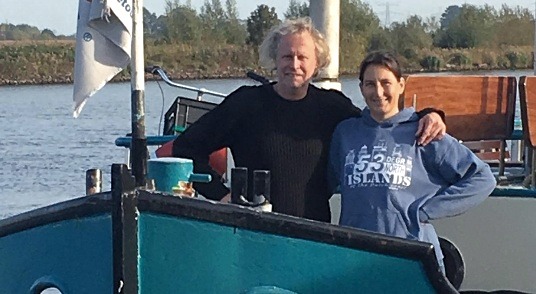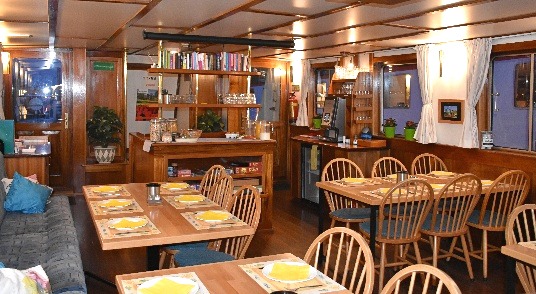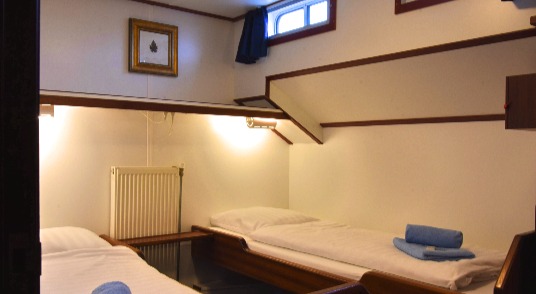 Information about your trip, what to pack, pre-trip transportation and lodging in Amsterdam, traveling abroad, tips on airfare, and other important pre-trip details will be provided in a WELCOME LETTER sent to you when we receive your registration for the trip.