The Bike and the Like personal approach
Suzie and Roger Knable pride themselves in offering personally hosted, service-oriented tours. We are hands-on in all phases of our tours and are your hosts and ride leaders on most trips.
In 2021 we welcomed good friend and historian, Sietse Huizingh, to our line-up of exciting tours. In 2023, we had a wonderful time co-guiding with him with rave reviews from our guests.
Sietse is a charasmatic guide, engaging our guests with adventurous routes, storytelling and his unique personal service. We are delighted to include him in our family!
Welcome to Tamara Venendaal!
Since 2006, she has been guiding hotel and bike tours throughout Europe. Tamara's creativity and energy matched with a people-pleasing nature makes her a great fit for our tours.
Suzie and Tamara guided the Typical Dutch and North Holland Tours together in 2023 and our guests had an amazing adventure!
Our typical Bike and Boat Day
Breakfast is served by 8 a.m. and we enjoy our meal, like Europeans, leisurely until 8:45. During breakfast we pack our "picnic-style" lunch and load it into our bike pannier. By 9:00 we unload bikes and set off for our all-day excursion enjoying the countryside, visiting historic villages and wonderful sights of the Dutch and German culture.
Cycling as a group is unique to Bike and Boat trips and bonds us socially from Day One. Suzie or one of our amazing guides at the helm, leads our group which stretches out with safe following distance. Each day, an enthusiastic member of our group volunteers as "ride sweep" keeping us together.
We enjoy a leisurely (smell the roses) sightseeing pace of 8-10 mph on mostly level terrain and regroup lots along our typical 25ish mile route. We love stopping for picture taking, and enjoy excursions each day. In Holland it can be a visit to a working mill or family owned farm where they make Gouda cheese. And, in Germany, it can be a roman ruin or family run vineyard.
Then, there are scenic breaks for a picnic lunch and guide's treat to coffee and baked delights at typical small town bakeries.
We arrive onboard typically around 4 p.m. to unwind with a refreshment, enjoy a shower, relax with our books and internet, or just socialize with tour friends on the outside deck.
Our hostess, Jonne, and helper, Christiane, serve us a delicious home-cooked dinner. At desert, we have a short meeting to discuss the next day's itinerary. Time permitting, we sometimes enjoy a walk around our historic town.
Please note that guests are always welcome to stay on the boat and sail if they do not wish to cycle.
Your Trip Fee
What your trip fee includes is specifically listed on each trip's webpage. There is no fine-print in what we offer our cyclists and we pride ourselves in bringing you a deluxe tour at a reasonable price.
Trip fees are based on double occupancy. If you are coming without a travel partner, we try our best to match you with a roommate. Bike and the Like reserves the right to make changes, deletions and modifications in lodging, food, and itinerary items as it deems necessary to fit the cost of the trip, improve the comfort and safety of the participants or as directed by our captain due to docking changes, water and weather conditions.
Bike and the Like is also not responsible for expenses not specified as included in the trip fee. If you are not sure what is included in your trip price, please ask us.
Incidental Costs
As with all trips, you should be prepared for incidental costs such as but not limited to, transportation to and from the trip start, a dinner-out not included, excursions not listed, alcohol beverages onboard, entertainment, trip gratuities, etc.
Physically ready for the trip
We find that active people of all ages with good basic cycling skills can enjoy a vacation by bike. The key to enjoyment of your tour is preparation. Even cycling at a comfortable, recreational pace with lots of stops requires a level of stamina.
If you already stay in shape with fitness and spin classes, you have a head start on training. We recommend several months before your trip to get out on your bike regularly, both on safe road and trail, and get cycling miles and handling experience under your belt.
Let us know how we can help, especially if this is your first tour by bike. As past cycling instructors, we have lots of great ideas to help you get ready for your trip.
Boat and Accommodations
Welcome to our new ship Flora, run by our good friend and captain, Berthus Van Den Berg and his wife, Jonne. Together with our amazing team, our goal is to welcome you onboard as part of the Flora family.
The Flora has cozy double occupancy rooms with newly remodeled baths and 2 individual beds. Our spacious salon offers comfortable ambience both for eating and socializing. Outside we have a spacious deck where you can enjoy a drink and admire the lovely views.
Berthus and Jonne have been active since Covid implementing new protocols to insure health and safety of guests onboard.
A new UV water filtration system has been installed and enhancements to better air circulation/filtering have been implemented. There is more frequent cleaning and sanitizing of common areas and cabins with environmentally safe cleaners that protect against viruses like Covid-19.
Jonne and Berthus are a team for cooking and serving dinner. They have both attended culinary school and maintain high standards of culinary cleanliness in the kitchen.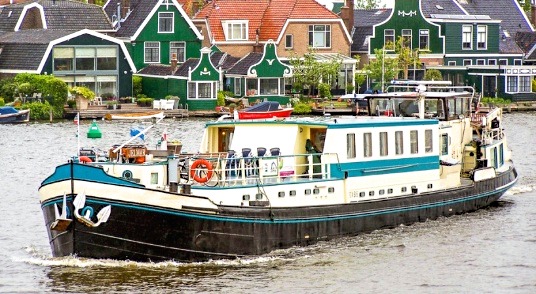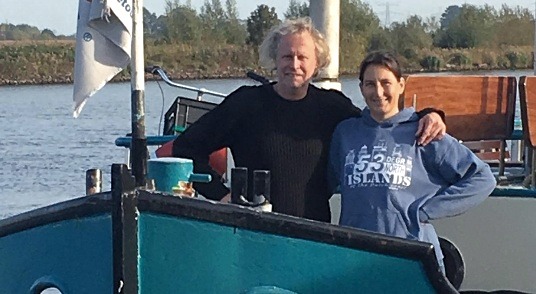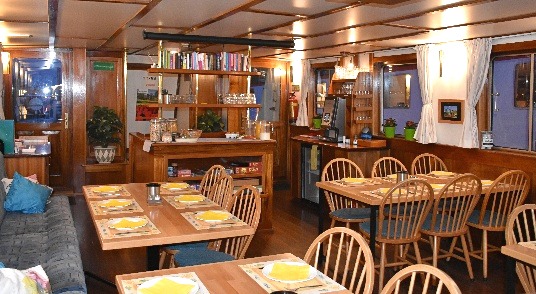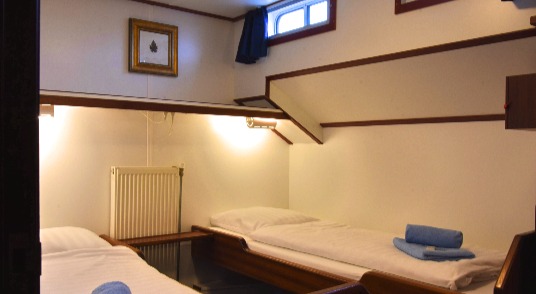 Meals
We understand the importance of good foods and the energy they supply for a healthy day of cycling. Our breakfasts are usually full European meals including eggs, yogurt, high quality cereals and oatmeal, fresh fruit, homemade breads and pastries.
For lunch, we pack a picnic style meal from an offering of meats, cheeses, spreads like peanut butter and bread to make sandwiches. In addition, there are fruit and cookies to enjoy along the cycling route.
Our dinners are full, hearty meals proudly created by Jonne. We try our best to accommodate dietary preferences like gluten or lactose free and vegetarian. We are sorry, however, due to the nature of our kitchen, that we are not able to strictly accommodate diets, like Vegan. Our cook, however, does her best when alerted in advance.
Every trip features a night off so our guests can experience the local restaurants.
Bicycles and Safety
All Bike and Barge tours include the use of a hybrid TREK bicycle with pannier and water bottle. We ask that you bring your own helmet as it is sized for best protection of your head. Should you experience a fall from your bike a well-fitting bike helmet provides the best protection. Of course, we are happy to supply you with a "universal" helmet upon request.
We have a small amount of Ebike rentals at an additional price of $150/week on a first-come basis. We ask that you are very familiar with the workings of an E-bike and have at least 50-miles cycling experience on one before the trip.
Our prime concern is your safety. Therefore, in your trip Welcome Letter we include a section on how to train, and links to videos and websites about cycling in the Netherlands and the other European countries we travel.
Weather and What to Pack
During our Tulip Tours in April and May you will experience all kinds of Spring weather. Days range from cool with some rain to warm days with brilliant sun.
Our June/July trips, like the Friesland and Wadden Islands Tour, feature little rain and long warm days-70-80 degrees- with sunset around 10 p.m. Our German trips along the Rhine, Main and Moselle Rivers are featured during Octoberfest Fall. Here you find cooler days in the high 50- 60s with nighttime highs in the 40s. These months have the lowest chance of significant precipitation in the river valleys.
Of course, Mother Nature is still in charge and we don't presume to guarantee a weather perfect vacation. Cyclists are always welcome to stay onboard and sail to the next destination if they are not happy with the weather.
Your Welcome Letter contains a detailed checklist of suggested clothing to pack for cycling in all variables of weather.
The Welcome Letter
When we receive your registration and deposit, we will confirm with an e-mail and a Welcome Letter attachment.
That letter will contain valuable pre-trip information including how and when to get to the tour start, arrival and departure information including lodging suggestions, tips on finding airfare values, packing suggestions, must-haves for international travel, how to train physically, etc.
Transportation
How to get to the trip destination, along with information on shuttle service and train service from airports, is included in the Welcome Letter you receive upon Registration/Trip Deposit. Since everyone is traveling from different areas to the trip start, we leave it up to our participants to make their own arrangements for airfare.
We are delighted to help advise you in your travel plans. We always have good ideas and helpful resources at the ready.
Travel Updates
As we have learned from our experience with Covid, the international travel environment can change quickly. We try and update to our clients these changes and advise websites in our Welcome Letter so you can also keep current on changes.
Reservations
Please e-mail Suzie to confirm available space for your chosen tour. If space is available, we will direct you to our Reservations Page where you'll find an online Registration/Waiver Form as well as our payment and cancellation policies.
Bike and the Like is glad to hold your space for 7 days pending the arrival of the Registration form and deposit. We always maintain a wait list as cancellations do occur.