Day 1: Merzig
We board at noon and fit bikes. You chose to cycle along the River Saar, or train with us to Mettlach to visit the famous earthenware factory of Villeroy et Boch.
Day 2: Merzig - Saarburg
A breakfast sail to Mettlach starts our cycling. We follow the flat river valley through quaint villages, and take slight climbs through forests for views overlooking the river.
Our destination is historic Saarburg-adorned with colorful old fishermen houses from the 17th and 18th century which give the town a picturesque look. We will visit the exquisite ruins of Castle Saar, imposing spectacle of the masses of water falling more than 20m over rock cascades, and experience a bahn ride & short hike through the vineyards.
Day 3: Trier
Today is an easy day with lovely views of the river and vineyard hillside. In Konz, a village at the turn in the river, we take a break for coffee &pastry at a town bakery.
Our final destaination is Trier. Founded in 16 BC, Trier is an overwhelming journey through the millennia, with no other place in Germany able to give you a better chance to experience the time of the Romans. On our walk with a town historian we will visit highlights as the impressive Porta Nigra, Imperial Baths,Konstantin Basilica and the Roman Amphitheatre.
Day 4: Bernkastel
We will cut across several hillsides today, riding through colorful vineyard paths and sneeking a taste of the grapes on the vine. We hope to find a winerier to visit and take a rest at a family-run biergarten.
Our final destination is Berkastel-Kues with its medieval marketplace, gabled timber-frame houses from the 17th century and Landshut Castle.
Day 5: Zell on the Moselle
Today's cycling tour will take you to the romantic village of Traben-Trarbach, located on the left bank of the Moselle and famous for its Jugendstil (art nouveau) architectural style.
Further along the Moselle your destination for the night is Zell on the Moselle, well known in the wine industry for the wine- Zeller Schwarze Katz. We tour this tiny town and stop for a wine tasting.
Day 6: Cochem
We pedal to Beilstein,the Sleeping Beauty of the Moselle and one of the best preserved historical villages along the length of the Moselle. We take time to explore the town and a visit to the ruins of Castle Metternich. Today's tour will end in Cochem, a lovely little town that features historical half-timbered-houses, a picturesque old center and Reichsburg Castle- which we will visit.
Day 7: Koblenz
Today we sail to Moselkern and a visit to the queen of the German fortresses, the impressive Burg Eltz. We need some time to take the easy 40-minute hike to the fortress from town. Our journey along the Mosel continues with quaint towns dotting the vineyard-swept hillsides.
Koblenz is a fascinating and historic city, and an important defensive and economic center for centuries. Highlights include the old castle of Ehrenbreitstein which dominates the right bank of the Rhine, the 12th century Alte Burg Castle and old Koblenz town. A town walk and wonderful dinner finishes our day.
Day 8: Koblenz
After breakfast we disembark by 9.30 a.m.
Trip Difficulty
Our terrain on this tour is mostly flat with some rolling as we venture into the German woodlands off of the river valley. As weather this time of year is historically moderate, we should experience little wind and rain but you should be prepared for those weather factors that impact cycling experience and ability.
We recommend this trip for an athletic/active person or experienced recreational cyclist who can complete the daily miles - and likes to average 10 mph on easy/flat terrain while enjoying a leisurely trip. We will average 30 miles on most days and advocate a "stop and smell the roses" philosophy to cycling. Our group cycles together as a shared experience.
You are always welcome to take a break from cycling and enjoy sailing from the sundeck of our barge- quite a delightful experience! We do not use the assistance of a support vehicle on our Bike and Barge tours. Please also note that itinerary and mileage can change due to weather conditions or docking changes.
Additional Information
We are delighted to host our tour on the Passengership Flora. The ship features comfy cabins with private bath, a lovely eating salon and lounging area, and outside deck to enjoy a drink and views of the water.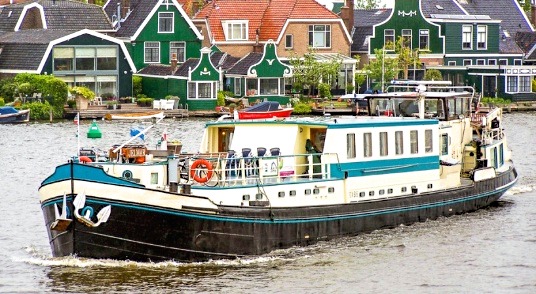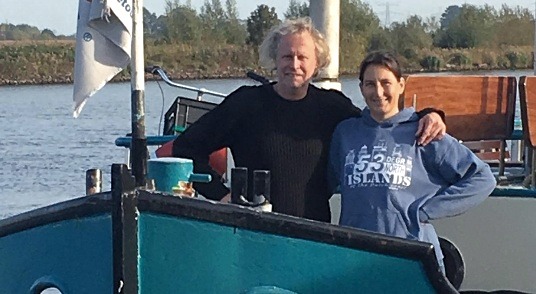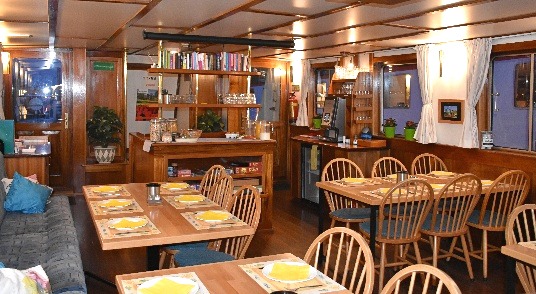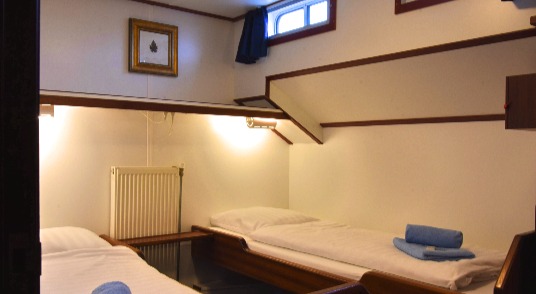 Information about your trip, what to pack, pre-trip transportation and lodging, traveling abroad, tips on airfare, and other important pre-trip details will be provided in your WELCOME LETTER sent to you when we receive your registration for the trip. We reserve the right to make changes in daily itineraries, routes and destinations in order to ensure the safety of our cyclists and/or to enhance the trip experience.